Doing the Impossible
Imagine . . .
A fun and creative work environment that builds happy and productive employees!
Increased sales and profits as satisfied employees create satisfied customers!
Team morale that fosters communication, reduces stress and conflict and enhances the overall quality of your company!
Tim Dumas brings over 25 years of experience in the business and entertainment world to help clients find unique ways to improve creativity, increase sales and profits, and use humor to develop fun and productive work environments.
Trained in the United States Air Force and Midwestern State University, Tim has been a clinical laboratory scientist, manager and consultant in the medical field from which he gained his fondness and understanding of empathy; a key concept in his presentations that will help your business enhance customer and employee relations. 
Parallel to his day job, Tim practiced and studied his true love, making people laugh. Professional Magician, Comedian and a graduate of Artistic New Directions in New York City, Tim's training in the art of humor, improvisation, and communication will have your group engaged and learning new skills to enhance all aspects of your business. 
As an accredited speaker and trainer through the National Speakers Association, Tim combines his managerial and performing talent to present Educational AND Entertaining interactive workshops and help you:
"Imagine the Impossible . . . Find a Way to Do It!"

**VIEW VIDEO**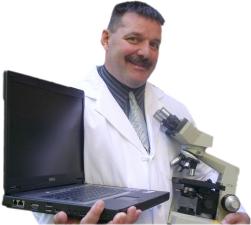 Tim The Lab Guy
Why "Tim the Lab Guy"?!
Well for many years that's what Tim heard . . . "I don't know. Go ask Tim the lab guy!"
With over 25 years of knowledge and experience as a clinical laboratory scientist, manager, and lab consultant, Tim Dumas came to be known as "The Lab Guy".
Satisfied clients continue to enhance their employee morale, quality of patient care, and practice revenue with Tim's unique and creative professional workshops.
Humor and magic engage your group as they learn valuable tools to enhance productivity and streamline their talents and time.
Imagine . . . a scientist who is educational and entertaining!